Date: Thursday, July 4 at 19.30
Venue: The Art Academy, K-2 building
19:30 – UN/GREEN FESTIVAL Opening Reception and Performances
By Florent DI BARTOLO (FR), Platons BURAVICKIS (LV).
Tickets – 5 EUR / 3 EUR (student discount) / admission free (for registered conference participants).
https://www.bilesuparadize.lv/events/event/74605
Florent DI BARTOLO (FR)
Florent Di Bartolo is an artist and researcher based in Paris. His work includes audiovisual performances, installations and interactive data visualisations. His artistic practice revolves around the notion of data poetics in the context of ubiquitous computing and explore alternative ways of representing and accessing data using sensors and custom written software.
Solar flares is an audiovisual performance with real-time graphics and ambient music made with modular synthesisers. It uses data about solar activities to generate sound waves and animate particle systems.
The data being used relates more specifically to the solar magnetic activity cycle: a nearly periodic 11-year change in the sun's activity and appearance. They include changes in the levels of solar radiation and changes in the number and size of flares. Solar cycles have been observed for centuries by changes in the sun's appearance and by changes seen on Earth's surface, such as auroras.
The performance does not give access to a detailed picture of the solar cycle. It sheds light on its existence and stages the disruptive effects its manifestations can have on our communication systems.
http://www.webodrome.fr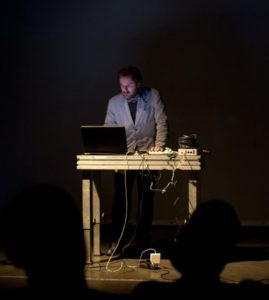 Platons Buravickis (LV)
Platon Buravicky – Composer of Contemporary classical music and pianist (b. 1989). Electronic music producer and sound designer (Max/msp and Ableton Live).
Based in Riga, Latvia. Studying with Vilnis Šmidbergs, Pēteris Vasks, Selga Mence and Rolands Kronlaks.
The composer and pianist Platon Buravicky was born on May 10, 1989 in Riga. He graduated the Riga 5th School of Music (1998–2002) specialising in piano (also studying composition with Vilnis Šmīdbergs), and the Emīls Dārziņš College of Music Keyboards Department (2002–2007, studying composition with Pēteris Vasks). He received a Bachelor's Degree from the Jāzeps Vītols Latvian Academy of Music, studying composition with Selga Mence (2009–2013), and, under her direction, continues his Master's studies. As of 2007, he supplements his knowledge with many teachers – he participated in algorithmic composition courses with Achim Christian Bornhoeft, electro-acoustic composition courses with Rolands Kronlaks, composition master classes with Dieter Mack, Alexander Tchaikovsky, Christian Wolff, Richard Cameron-Wolfe, and Ed Benett, and electro-acoustic music master classes with Lamberto Coccioli and James Bullock.
His works have received awards at the new composition competition (1st place – 1999, 2007) and at the Pēteris Vasks composition competition (2nd place – 2012, 3rd place – 2014). His music has been performed at the festivals Skaņu mežs, Dominante, Survival Kit 5, Art and Communication, Arēna, Latvijas Jaunās mūzikas dienas, and elsewhere.
He has worked as a teacher of music theory at the Jugla School of Music (2011–2013) and as a music teacher at the Riga Classical Secondary School (2011–2014). As of 2013, he is a teacher of composition and music programming at the Jelgava College of Music.
https://soundcloud.com/platon-buravicky